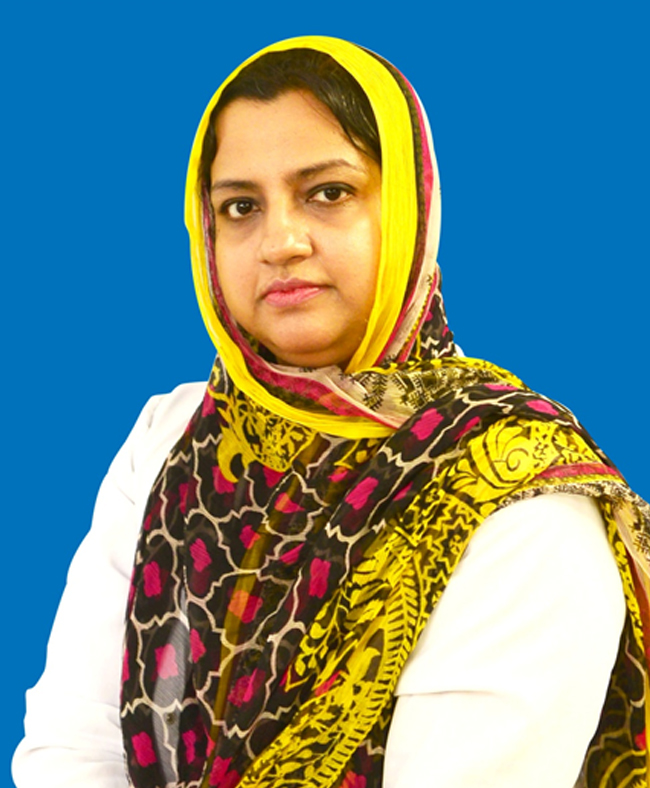 MBBS, FCPS (Pediatrics), post-fellowship training in Pediatric Hematology and BMT
Assistant Professor
Section Head, Pediatric Leukemias
Dr. Zainab Ghiasi is a fully trained pediatric bone marrow transplant physician. She has got expertise in allogeneic bone marrow transplants for pediatric benign hematological disorders and blood cancers • She has expertise in transplants for Primary Immunodeficiency disorders(PID) like Severe Combined Immunodeficiency(SCID), Reticular Dysgenesis (RD), Inherited Hemophagocytic lymphohistiocytosis like Chediak Higashi Syndrome and leukocyte adhesion deficiency.
She strives continually for excellence & provides exceptional contributions to improve patient care. With an FCPS degree in Pediatrics & post-fellowship training in pediatric hematology & bone marrow transplant, she has a comprehensive understanding of the transplant physiology, immunology & clinical aspects of both allogenic & autologous transplants.
Dr. Zainab Ghias is also working as the clinical head of the section of Pediatric Leukemia at NIBD. She is actively engaged in both the inpatient & outpatient management of Pediatric Leukemias (Acute Lymphoblastic Leukemia & Acute Myeloid leukemia) including laboratory diagnosis, treatment, molecular monitoring of patients, dealing with disease-related complications, and drug-associated adverse events.
Besides clinical skills, she has a keen interest in research. She has attended good clinical practice courses as well and has been involved in international research activities like the ADAPT survey in Pediatric Palliative care in Pakistan.