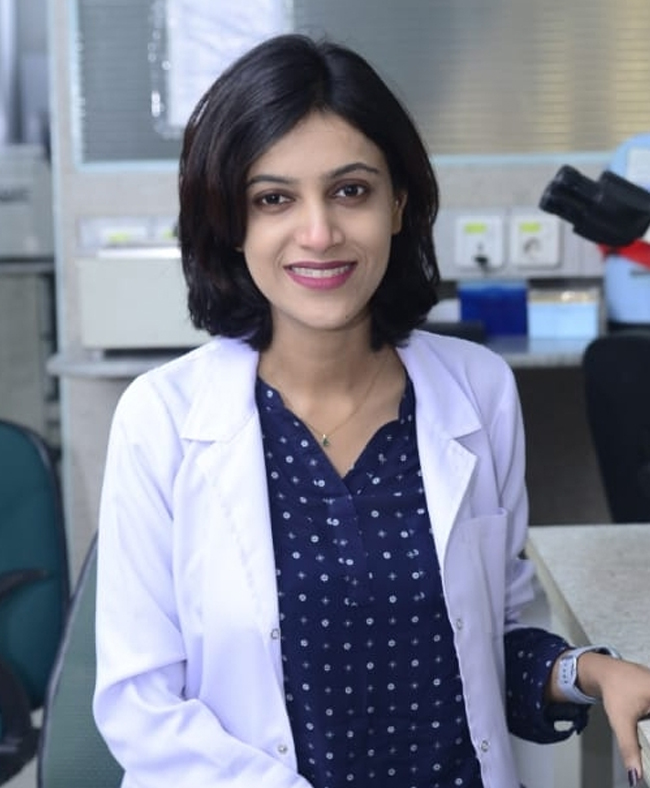 MBBS, FCPS (Clinical Haem), and Bone marrow transplantation (certified European
Bone Marrow Transplant Physician)
Section Head Acute Leukemia.
Assistant professor and consultant clinical hematologist
Dr. Aisha Jamal is a consultant clinical hematologist, currently leading the section of acute leukemia, and working as an adult bone marrow transplant physician at NIBD & BMT hospital. Dr. Aisha Jamal has double post-fellowship training in the fields of acute leukemia and bone marrow transplantation, respectively. Her expertise in the sections of acute leukemia and bone marrow transplantation makes her uniquely capable of designing patient-tailored treatment plans for patients suffering from life-threatening hematological malignancies (blood cancers).
Dr. Aisha Jamal is a faculty member of the malignant department of NIBD hospital and she has a number of patients under her care who are suffering from various hematological malignancies like acute myeloid leukemia (AML), acute lymphoblastic leukemia (ALL), acute promyelocytic leukemia (APL), Hodgkin & non-Hodgkin lymphoma, myelodysplastic syndrome, and multiple myeloma. She has successfully established the section on acute leukemia and has implemented the latest chemotherapeutic protocols, molecular targeted therapies as well as immunotherapies for different blood cancers. She is also a European-accredited bone marrow transplant physician and part of well developed and rapidly expanding program of bone marrow transplantation for hematological malignancies at NIBD & BMT hospital. She has comprehensive knowledge and understanding of the various aspects of both allogenic and autologous stem cell transplantation as well as skills to identify patients with hematological malignancies best suited for bone marrow transplantation.
Dr. Aisha also received her certification in infection prevention and control from St. Jude Children's Research Hospital, USA, and is an active member of NIBD's team of infection control and prevention. Dr.Aisha Jamal aspires to be a physician-scientist and is actively involved in various research projects pertaining to her field. She has authored a number of original articles that are published in international peer-reviewed journals.
Dr. Aisha Jamal is a very compassionate and committed physician. Hematological malignancies carry a dismal prognosis all around the world but the outcome is even worse in developing countries like Pakistan. Dr. Aisha Jamal and her team are working round the clock to improve the management and outcome of patients with hematological malignancies in Pakistan. Her future endeavors include establishing a leukemia survivorship program to facilitate leukemic patients in understanding their disease, to find kinship with people suffering from similar calamity, to share their own experiences and to find hope in the fact that hematological malignancies are not incurable and a well suited patient tailored treatment plan can not only improve the quality of life significantly but can also put the disease in remission.