Welcome to NIBD
National Institute of Blood Disease & Bone Marrow Transplantation is an 80 bed Hospital in the heart of the city of Karachi. NIBD & BMT is specialized centre of Haematology, Bone Marrow Transplantation and Allied Surgical/Medical Specialties.
National Institute of Blood Diseases & Bone Marrow Transplantation (NIBD & BMT) is the only tertiary care and teaching institute in the whole country exclusively dedicated to provide comprehensive diagnosis and management of patients suffering from blood disorders. We are the pioneer in Bone Marrow Transplantation in Pakistan and we have done more than 500 BMT's so far.
"Access to Health care is a basic human need. We cannot let our patients die; just because they don't have resources to live."
About us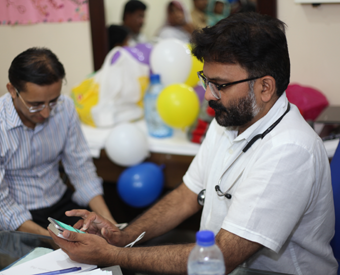 The Best Transplant Physicians.
Over 20 Years of Experience.
Over 1500 Successful Bone Marrow Transplant Procedures.
24/7 Pharmacy Services.
24/7 Blood Bank Services.
24/7 Emergency Services.
In Patient & Out Patient Services.
.
.
.
Meet Our Doctors
HAEMATOLOGY

PEDIATRIC

Dr. Saqib Hussain Ansari

Consultant Haematologist & Transplant Physician Pediatric.
View All →
Latest news
Welcome to WordPress. This is your first post. Edit or delete it, then start blogging!

Working from home meant we could vary snack and coffee breaks, change our desks or…

Working from home meant we could vary snack and coffee breaks, change our desks or…

Working from home meant we could vary snack and coffee breaks, change our desks or…

Working from home meant we could vary snack and coffee breaks, change our desks or…

Working from home meant we could vary snack and coffee breaks, change our desks or…

Working from home meant we could vary snack and coffee breaks, change our desks or…

Working from home meant we could vary snack and coffee breaks, change our desks or…

Adams also came to understand how important it was that his carefully crafted photos were reproduced to best effect. At Bender's invitation, he joined the prestigious Roxburghe Club, an association devoted to fine printing and high standards in book arts.

Working from home meant we could vary snack and coffee breaks, change our desks or…

Working from home meant we could vary snack and coffee breaks, change our desks or…

Working from home meant we could vary snack and coffee breaks, change our desks or…

Lorem Ipsum has been the industry's standard dummy text ever since the 1500s, when an unknown printer took a galley of type.

Adams also came to understand how important it was that his carefully crafted photos were reproduced to best effect. At Bender's invitation, he joined the prestigious Roxburghe Club, an association devoted to fine printing and high standards in book arts.

Working from home meant we could vary snack and coffee breaks, change our desks or view, goof off, drink on the job, even spend the day in pajamas, and often meet to gossip or share ideas.

Adams also came to understand how important it was that his carefully crafted photos were reproduced to best effect. At Bender's invitation, he joined the prestigious Roxburghe Club, an association devoted to fine printing and high standards in book arts.

Adams also came to understand how important it was that his carefully crafted photos were reproduced to best effect. At Bender's invitation, he joined the prestigious Roxburghe Club, an association devoted to fine printing and high standards in book arts.

Working from home meant we could vary snack and coffee breaks, change our desks or…